Mi Serenata Tango Worldwide
Our humble aim is to promote Argentine Tango on a global scale through multi-cultural communication, activities and ventures.

Alma del Tango
We could not be more pleased and excited to welcome our Sister Club and Sister Milonga, Alma del Tango, in Beijing, China.
History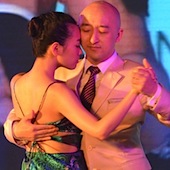 Alma del Tango was founded by Esteban "TT" (2013 Chinese Tango Champion - Salon Tango category) and Amy, a pair of influential professional dancers from Beijing. Since forming their partnership in 2008 they have been invited to perform and teach in 6 different cities in China. For the past few years they have devoted their total efforts in the promotion of Argentinian tango dance and culture.
They are popular for their elegant, classical, and passionate dance style, and they have been invited to perform at Asian tango festivals. In 2012 they formed their own tango club Alma del Tango in Beijing, insisting on being traditional salon tango dancers, they devote themselves to continuing promotion in tango culture in China.
Milongas
Milonga Serenata - Every Wednesday
Venue: Switzerland Bar, south end of SOLANA, left bank bar street No.15, Chaoyang District Changyang Park Road No. 6
Classes
Venue: 1F No. 26 ZaoYing Beili, Community service center of Maizidian Area, Chaoyang District, Beijing, China