Raffaele Capasso
"I discovered tango on one of my many football tours to South America. I watched my partner, Sabrina, dance it for many years in Sydney. One day, I decided to take the plunge and found myself on the dance floor doing my very first lesson and I haven't looked back nor will. I found out its addictive and obsessive nature, which lifted both your spirit and fed your mind. The well known adage that "Tango finds you" is certainly true in my case.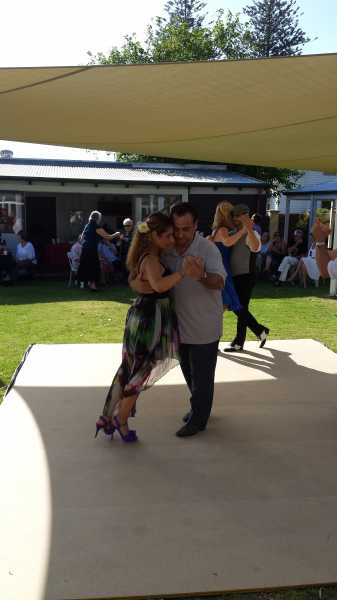 studied with teachers in Australia such as Club de tango and Tangueros in Sydney and Sidewalk Tango in Melbourne and with visiting teachers such as the Macana Brothers, Fabian Peralta and Virginia Pandolfi, as well as Joaquin Amenabar. I also expand my knowledge and dance skills through my regular visits to Buenos Aires, studying with tango maestros such as Hugo Daniel, Jorge Firpo, Gabriela Elias and Eduardo Perez, Natasha Poberaj, Marta and Manolo (maestros of Canyengue).
I found that my foundations and skills as a football player and coach have many similarities with tango especially in the techniques such as disassociation, balance, posture and rhythm. These skills can easily be translated into tango.
In 2005 I assisted the organisers, Sidewalk Tango & Solo Tango in their promotion, setting up and organisation of the Australian International Tango Festival and Sabrina and I participated in the on stage pre-milonga arranged by Club de tango, which took place prior to the performance of "Tango Fire".
Just like my partner, my training is also supplemented by constant practice, self study and research into the music and skills of dancers. I have completed and received tango accreditation with the legendary tango maestros, Miguel Zotto and Daiana Guspero; and my partner, Sabrina and I are the only official accredited Argentine Tango teachers in Western Australia.
Raffa