Sabrina Elias
I have been a tanguera, and have been engaged and an active participant in the tango scene in Sydney since its infancy in 1998 – I feel as though I am part of its fabric!
My love affair with tango began when I was living in London in 1991. I saw a performance of the original Tango Argentino cast at the Aldwych Theater. The cast included artists Juan Carlos Copes and Maria Nieves dancing alongside the musicians of Sexteto Mayor!
Unbeknownst to me I was watching history in the making and witnessing what has since been described as 'the resurgence of tango'! It instantly drew me into its world of poetry, elegance, and connection, from which I have no intention of leaving!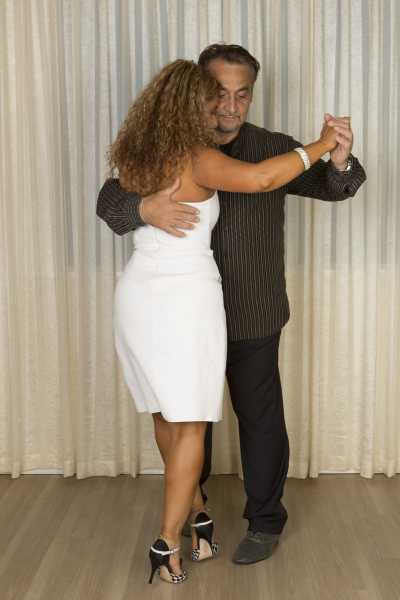 My desire to dance the traditional Argentine tango was born. I understood what Jorge Luis Borge once said, "The tango is a direct expression of something that poets have often tried to state in words."
Notable Tango Activities
I became involved with Sydney tango schools about 1998 when tango moved out of the South American community and into the dance community and I have been involved in the promotion of tango for the schools with performances at the Dance Expo, for Club de Tango, Patio de Tango, A Little Buenos Aires and Tangueros.
I have built up a skills base by regularly training with Australian based tango teachers such as Club de tango, Sidewalk Tango and Tangueros and visiting teachers such as Pablo Veron, Pecky Land Zoghby, Miguel Angel Zotto, Lorena Ermocida and the late Osvaldo otto, Fabian Peralta and Virginia Pandolfi and Joaquin Amenabar.
My regular visits to Buenos Aires incorporated studies with teachers including Hugo Daniel, Aurora Lubiz, Milena Plebs, Julio and Corina Balmaceda, Jorge Firpo, Graciela Gonzalez, Gabriela Elias and Eduardo Perez and Marta and Manolo (maestros of Canyengue)
My training also is supplemented by constant practice, self study and research into the music and skills of dancers.
I taught for Tangueros, a Sydney school, during their absence in 2004 and have assisted in classes for Club de Tango.
In 2005, I was in the Final of the Australian International Tango Competition (top ten finalist).
From 2005 to 2007 I assisted the organisers, Sidewalk Tango & Solo Tango in their promotion, setting up and organisation of the Australian International Tango Festival and appeared on 'Good Morning Australia' on Melbourne's Channel 9; I have also actively participated and promoted tango during the Melbourne Flower and Garden Show and at the Spanish Film Festivals.
I visit Buenos Aires regularly for continual improvement in my dance and knowledge of the music, history and culture of tango, and interacting with tango maestros.
I have completed and received tango accreditation with the legendary tango maestros, Miguel Zotto and Daiana Guspero; and
My partner Raffa and I are the only official accredited Argentine Tango teachers in Western Australia
Favorite Quote
Beginners want to dance like intermediates; intermediates want to dance like advanced dancers; advanced dancers want to dance like the greats; but the greats always go back to basics.