A Thank You note to the Perth Tango Community
Posted on 26th September, 2015 by Sabrina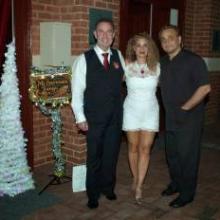 Mi serenata would like to thank the Perth community for your support, acceptance and generosity over these past four years. It has been a wonderful experience for us and we hope that we have made a positive indentation in bringing tango to u. We hope that u have embraced our world of tango as we have embraced yours. We shared a lot of exciting experiences together through our weekly lessons, Milongas, events, joint ventures with the Latin American Film Festivals and the Perth Fringe Festival, Summer Sunday High Tea Milongas and Summer Milongas at the Gadfly Gallery, fundraising nights, outdoor events at Mandurah and Freshwater Museum, opening premiers, and not forgetting our international and interstate artists and maestros.

It seems we did a lot in the short space of time! Our journey can be viewed on our website and blog at http://www.miserenatatango.com
Mi Serenata believed in injecting the scene with new ideas and concepts in order to create an edge and a vibe. We introduced and encouraged new DJs to the scene who have now become permanent fixtures and we hosted the International Australian Tango Salon Competition with much success to the couples who participated. As a small team we also managed to sponsor a short film Tango Underpants which went on to win numerous awards.

Our Milongas always had a positive vibe and the preparation and care we put into each one were self evident. Not to mention our chef's infamous suppers which did stop the music on more than one occasion.
Our ethos of encouraging and nurturing our students to participate in workshops and Milongas other than our own was very much prevalent in the community. We remained inclusive and we know we have built bridges which was always our main goal.
A special thanks to our team members Sam (and also DJ extraordinaire "El Porteñito") and Ralph, who took great pride in the delicious dishes cooked by him.
A thanks to Fabian and Sonya who put in so much love and gusto into our events.

An appreciative thanks to all our volunteer helpers before, during and at the end of the each Milonga night.

A special thanks to Ralph's indoor football girls and boys for helping in the kitchen and freeing up our Chef so he could partake on the dance floor.

A special heartwarming thanks to Ann and Rose who were always there to decorate the hall so beautifully and assisted at the door, especially during my absence and to Martin who always stayed behind to help us put away the tables and chairs.

A big thank you to Alejandro del Mar and Jenny for accommodating Natalia Hills and Alejandro Aquino during their visit and the incredible promotional pieces as well as helping us on the nights of our Milongas.

Lastly, a big heartfelt thanks to all the Perth DJs who always showed us respect and volunteered their time and talent, Nick Furlan, Helene Schairer, Sharon Waterson, Pierre Candaleria, Kiong "El Señor" Tan, Aejandro del Mar, John Ellis and Patrick Spanoghe.
Lastly, along our journey we met many people some of whom we hold very close to our hearts and whose support, sincerity and trusts will be our greatest discoveries and treasures.

Thank you all for this unique opportunity.

Mi Serenata will start anew as this is only our beginning and not an end.
Good luck, God bless and we shall see you when we see you.
Saludos
Sabrina, Ralph and Sam xxx