Encore Gala Performances from Amy Georgina Teuchert and Jairo Sanchez Rivera, TANGUEROS Saturday 22nd March 2014
Posted on 25th March, 2014 by Sabrina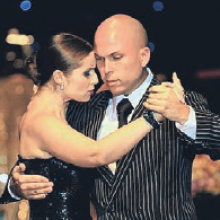 Mi Serenata Tango invites you to another BIG NIGHT OF ARGENTINE TANGO in the friendly ambiance of our Milonga on Saturday 22nd March 8pm-late @ 26 Princess Road St Aidan's Church Claremont. Entry is $20, and includes supper by our masterchef, door prizes and music by our experienced DJ Nick Furlan.

Tonight features spectacular Tango performances by the professional dance company, Tangueros with Jairo Sanchez Rivera and Perth's own Amy Teuchert.
Tangueros is the only tango company in Australia that has performed with renowned Argentine Tango companies in Buenos Aires, Argentina. They have performed Tango around Australia, including the Sydney Opera House, and have both produced & choreographed the stage production "Satango -The Devil's Tango", an Australian musical.
The partnership of Rivera and Teuchert has produced one of the leading performance couples in Australia, combining skill, knowledge, unmatched stage presence and artistic expression.
Known both nationally and internationally for their elegance, poise, elegance and musicality, Jairo and Amy from Tangueros are back for encore performances and to conduct a series of workshops. During their visit to Buenos Aires last month, they were invited to perform at some of the most famous, oldest and world renowned Milonga halls such as Salon Canning, Club Gricel and Porteno y Bailarin. Hence, for those who are in the know, it is an honour and privilege to have had the opportunity to perform on the world stage of such places where many maestros have either debuted or continue to perform.

Their performance at our Pink Ribbon Fundraiser showed their musicality skills, and their heightened sense of tango and the emotion it transmits. We at Mi Serenata are honoured once again to have them perform at our Milonga for the enjoyment of the Perth Tango Community.
Click here to see their recent performance at Salon Canning in Buenos Aires on 13th January