Recap: GALA MILONGA with Performances by Tangueros and the Perth Qualifying Round of the Australian Tango Dance Challenge
Posted on 20th March, 2013 by Sabrina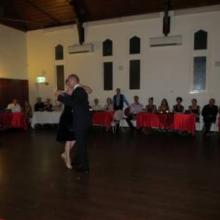 Wow what an amazing night indeed with such spectacular and stylish performances by Amy and Jairo from Tangueros! We are glad to say that they will be back for encore performances at our milonga on May 25th plus workshops on Friday 24th May - Sunday 26th May. They received many compliments and some were awe-strucked.
The night also incorporated the Australian Tango Dance Challenge, the only qualifying round held in Perth. We are proud to announce that both couples qualified and will see their way to Sydney for the elimination rounds. The winning couple will receive two return tickets to Buenos Aires plus accommodation.

Thank you all for coming along to our Milonga and sharing a memorable night with us. Your support is truly humbling.

Champagne Tango will like to express their deepest gratitude and appreciation to those who arrived early to help us with the setup of the hall, help during the Milonga and who stayed till the end to help us clean up. You helped us make it a seamless, enjoyable and atmospheric night.

Special "Thank you" to Totti, Sam, our resident DJ Patrick, our host Sonya, Fabian, our chef Ralph (who cooked up a storm), our kitchen hand Andrea and of course our dance challenge contestants and those couples who voluntarily took to the floor to accompany them during the challenge. No coercion was necessary!

All photos and videos (more to come of the performances) can be viewed in our galleries:

Photo Gallery
Video Gallery

Many thanks and we will see you at our next Milonga on Saturday April 27th.

Cheers

Sabrina Elias xx
Gallery