Champagne Tango in the Press!
Posted on 24th June, 2012 by Sabrina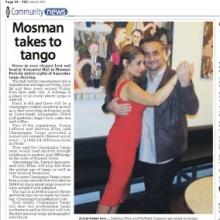 Mosman takes to tango
Dress in your elegant best and head to Alexander Hall in Mosman Park for stylish nights of Argentine tango dancing.
The hall will be transformed into a Argentinean milonga on Friday, June 29, and then every second Friday from 8pm until late. A milonga is a place or an event where tango is danced.
Entry is $10 and there will be a champagne cocktail on arrival as well as a chef providing delicacies such as home-made empanadas (filled puff pastries), finger food, cake, tea and coffee.
Two of the organisers, Sonya LeFevre and Sabrina Elias, said Champagne Tango provided a hosted and romantic-themed social event – "a little bit of Buenos Aires in Perth".
They said the Champagne Tango team would lead dancers through traditional to modern, post 1950 tango in the style of Buenos Aires. Alternating DJs, Patrick Spanoghe and John Elias, will play hits from the golden age of tango as well as rare musical treasures.
The name Champagne Tango comes from a tango melody first recorded in 1914 that many great tango maestros have adopted and adapted.
The hall is at 20 Monument Street and bookings can be made by emailing info@champagnetangoperth.com.
Next month, Champagne Tango will host two professional tango performers and on October will host the first national tango photographic exhibition.
Reprinted from The Cambridge Post, June 23 2012