Recap: Our Inaugural Milonga!
Posted on 28th June, 2012 by Sabrina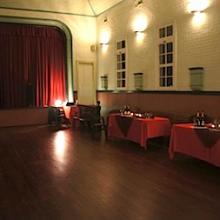 Wow, what a lovely start to our very first milonga on June 27th.
It was terrific seeing many familiar faces, as well as some newbies. We have had quite a few thumbs up and comments on our Facebook.
The atmosphere was energetic, happy, chatty, friendly topped off by the majestic music arranged by our DJ Patrick Spanoghe.
Our chef cooked up a storm serving our signature dish of empanadas, sweet and savoury muffins, custard, antipasto and many more delicacies that was as much the topic of conversation as was the dancing.
Our team member, John Ellis, was busily serving champagne cocktails to all those who came through the door; though the floor itself was slippery, we have brought that up with the hall administrator, with many suggesting that a damp mop might do the trick to make it pleasant for our dancers.
Overall, thank you Perth tangueros for sharing our night and making it such a success. You created precisely the type of social atmosphere to which we aspire. We cannot wait to welcome you back to our next milonga with more dancing on a less slippery floor, more delicacies, great music, further door prizes and more friends to add to your collection!
Photos can be viewed on our Facebook