Club de Tango in the Press!
Posted on 13th October, 2012 by Sabrina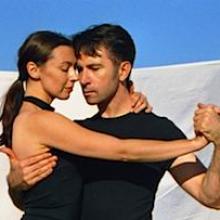 Two to tango at St Luke's
Two of Australia's best tango dancers, Peter Waller and Lisa De lazzari from Club de tango in Sydney, will perform at Champagne Tango Perth next Friday.
Peter and Lisa have danced Argentinean tango around Australia, including at the Sydney Opera House, and their numerous TV and radio ap- pearances have included a 60 Minutes segment.
It will be a big night at the Milonga in Alexander Hall, in Mosman Park's St Luke's, with a mocktail champagne cocktail on arrival, a gourmet supper by a tango-dancing chef, door prizes and music by Lisa, who is an award-winning tango DJ as well as a performer.
It's all happening from 8pm to late on Friday, October 19.
Peter and Lisa will also con- duct five workshops, three on Saturday, October 20, and two on Sunday, October 21, as well as private lessons.
Reprinted from The Cambridge Post, October 13 2012
Please note: There is an error in the address in the POST as our MIlonga on the 19th October will be held in the hall of the heritage church, St Aidan's Uniting Church 26 Princess Road Claremont and not at St Luke's.
CHECK OUT DIRECTIONS ON THE GOOGLE MAP
Gallery