Recap: Our Gala Milonga Oct 19 with Performances and Workshops from Club de Tango
Posted on 28th October, 2012 by Sabrina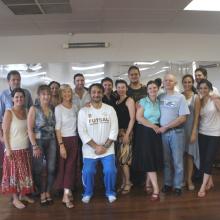 If you missed our last milonga, well….you missed a packed house and stunning exclusive performances by the accomplished tango performers and instructors Peter and Lisa from Club de tango in Sydney and music provided by award winning DJ Lisa De Lazzari.
It was hard to follow such a night, with many familiar and new faces together with a surprise appearance of ex-PTC Chairman Bruce Canon and his wife Trish, who took to our floor late in the night. There was very good attendance, excitement and bright ambience at our milonga from a lovely cross-section of dancers, as well as members from the public, many of whom hadn't witnessed performances of this calibre, standard and inspiration.
Participants took home lessons learnt in Club de tango's workshops, who in turn, explored tango's elegance and explanations to a complex dance. This pioneering duo regard tango as an evolving journey and showed a great ability to identify the individual needs of their student and to bring out the best in their students and to pass on high quality tuition, concentrating on connection, technique and musicality. Each of the five workshops held over the weekend at Cottesloe Civic Centre attracted enthusiastic beginner and advanced dancers alike.
A big "Thank You" to Club de tango for an inspiring weekend and to all those who attended the workshops. We hope to see you at our next milonga.
You can view the milonga performances and workshops at Champagne Tango Perth's website video gallery.
Gallery