Recap: Gala Celebration Milonga (First Anniversary) - Saturday 22nd June
Posted on 26th June, 2013 by Sabrina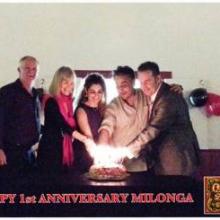 Wow, what a lovely night it was indeed! We had many complimentary bouquets on our first anniversary. Everyone felt welcomed, the atmosphere was friendly and unpretentious as one person put it, the floor was constantly crowded, the food was incredible as usual and the music by DJ Nick Furlan was certainly pumping. The ladies did a great job of decorating the hall and together with the bright and happy crowd the night was an overwhelming success.
OUR GUESTS - Champagne Tango Perth would like to extend a heartfelt THANK YOU to all those who attended our first anniversary and in doing so, lending your support and giving us the privilege to hold such fabulous events throughout the year. Our team completely loves these events and we hope our infectious energies rubs onto you too.
OUR GUEST DJ NICK FURLAN - The music for our special night was provided by Nick Furlan, whose music never missed a beat and who kept the crowd on the floor till past midnight. His meticulous selection of music was reinforced by the rousing applause extended to him during our exceedingly brief speech. Thank you, Nick, your music was simply divine!
OUR TANGO CHEF - Our next big round of applause was to our tango chef, Raffa, who once again cooked up a storm and this time baked our 1st Anniversary Rocky Road cake which looked like it was on fire due to the abundance of candles! Just like the music, the refreshments and cake were simply delicious. We thank you Raffa, for your tireless effort and your trademark work at each Milonga.
OUR FUTSAL LADS - We would also like to extend our deepest thanks to our Futsal (indoor soccer) lads who volunteered their time on the night especially in the kitchen. Their help is invaluable to us, freeing up time for us to be on the dance floor and to socialise with our guests. Thank you boys and it is a real pleasure having you there as a part of our Milonga and enjoying the night alongside us.
OUR ABSENT RESIDENTIAL DJ: Our residential DJ Patrick Spanoghe was sadly absent at our 1st anniversary, holidaying in Brussels, but our thanks go out to him for his commitment and dedication to our monthly Milongas and of course, his equally essential and splendid music arrangements. So Patrick thank you for your great help and passion you put towards our Milongas and coming on board with us to make a dream come true.
REST OF THE TEAM - Lastly, but just as important of course, we would like to thank Fabian, Sam, Sonya and Sabrina for their work in setting up the place such as the balloons, candles, tables etc, the logistical arrangements, and their efforts during the night with their personalised hosting and socialising ensuring that our guests were comfortable and were enjoying the night.
THE END OF THE NIGHT - Thank you to all, students, guests and all mentioned above, who stayed behind to help us clean up, put away items and lock up safely. Such help is greatly appreciated at the end of every Milonga night.
We hope to see all of you in the coming months as we heat up our schedule with many interstate and international artists and performers, as well as our special Milonga events.
Our team is devoted to tango and very passionate in the execution of our work. We look forward to each Milonga and we strive towards achieving our best for our guests.
2014 - Here's to an equally productive and entertaining 2014…
Sabrina, on behalf of the Champagne Tango Perth team