Recap: Milonga de Invierno Saturday 27th July 2013
Posted on 31st July, 2013 by Sabrina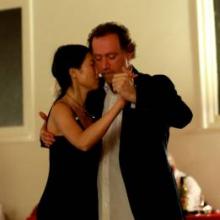 Champagne Tango Perth will like to thank everyone for sharing a lovely night with us at our July Milonga. It was a special Milonga for many reasons. Firstly, the night would not have been possible without the lovely and meticulous arrangement of music played by our DJ Helene Schairer. With her creativity and knack of reading the dancers, Helene kept the dancers on their toes all night, so to speak. Thank you Helene for a night of beautiful melodies and we hope that you will return to DJ for us sometime soon.
Secondly, it was our privilege to hold a surprise birthday dance for our lovely guest, Nick Furlan, who had graced us at our Anniversary Milonga with his DJ skills. We also had our bon voyage dance for Veronica from Beijing, who has been working in Perth for the past 4 months and during this time has become part of the Champagne family. Veronica called it a celebration rather than a farewell dance as she begins to miss Perth, Tango and all the people whom she has met, many of whom, I am certain, will remain friends of hers from here on.
Thirdly, we were very thrilled to have fellow Perth tango organisers Antonio and Leanne from TangoSpace join us at our Milonga. "Thank you for the milonga traspie, Antonio. It was a lot of fun," and visitor Clary from Tango A Media Luz in Vancouver, who was busy dancing on the floor all night. Fourthly, we warmly welcomed back our good friends Nick and Kate Suess after their 3 month sojourn in Britain and Europe. We had missed both of them. "Thank you for the café latté, Nick."
Finally, thank you to our team Sam, Raffa and Fabian and to our helpers Veronica and Martin. The night will not be possible without their support, dedication, help and sheer love for tango.
Thank you to Raffa for the delicious supper and the cake that just flew out the door!
Photos courtesy of Ken Sheld
Gallery