Recap: GALA MILONGA with Encore Performances from Tangueros - Saturday 25th May 2013
Posted on 29th May, 2013 by Sabrina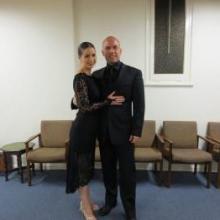 We welcomed back Jairo Sanchez Rivera and Amy Teuchert from Tangueros for encore performances at our Milonga on Saturday 25 th May, in the hall of the heritage church, St Aidan's Uniting Church 26 Princess Road Claremont 6010 and for a series of weekend workshops.
What a beautiful night it was with spectacular performances and encore dances from Tangueros. They amazed both novice, experienced dancers as well as members from the public with their moves, style, technique, elegance and improvisation. Simply addictive and delicious to watch. Jairo Sanchez Rivera, as our DJ for the night did a remarkable job with his arrangement and keeping the energy and momentum alive with his music, till the last tango at 12.15am! The supper provided by our chef was divine as usual, stopping dancers on the floor to form a queue at the table! Our helpers and hosts were kept busy all night, ensuring that the night was seamless.
Their weekend workshops were such a success that we were asked by our participants for their return and soon too. Each workshop was well presented, well attended and we had a gender balance. Participants were motivated, inspired, enthusiastic and hungry for the knowledge that these two brought to the table.
To all those who arrived early and stayed back to help, a very warm and appreciative thank you. Thanks for the decorations and taking care of the music
And a special thanks to Tangueros, for bringing your tango soul and spirit to our Milonga. We can't wait for your return to our Milonga.
Videos of the performances will be up in our video gallery soon.
Gallery