Recap: Tangueros Workshop Details - 24th, 25th and 26th May 2013
Posted on 29th May, 2013 by Sabrina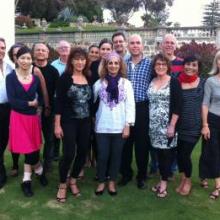 Tangueros weekend workshops were such a success that we were asked by our participants for their return and soon too. Each workshop was well presented, prepared and planned, giving participants input with encouraging questions from participants. Each workshop was well attended with a gender balance. Participants were motivated, inspired, attentive, enthusiastic and quite hungry for the knowledge that these two brought to the table.The energy at these workshops was intense and yet fun.
The workshops concentrated on Fundamentals and Styling and delivered these and more. The workshops were aimed at beginners to advanced levels ensuring that every participant took home a concept, idea or innovation with them. These teachers were giving with their knowledge and their aim was to educate and impart.
Private lessons were all booked out with back to back lessons immediately after the last workshop showing their dedication, professionalism and sheer enjoyment for Tango.
Thank you Tangueros and we shall see you soon in Perth.
Refer to table below for full details of each workshop.
1 HOUR PRIVATE LESSON
Many dancers (new and seasoned) find that the definitive way to accelerate their tango learning is to enrol in private classes from time to time. Such lessons are tailor made to individual requirements, allowing the teachers to focus on the elements you most like, most need improvements or add accelerated elements to your dancing etc. For bookings, email info@champagnetangoperth.com
#

Workshop Details

Date

Time

1

Fundamentals of Tango Technique (Beg/Int/Adv Levels)
A class for the new or experienced dancer covering elements of connection, balance, body awareness and energy

Fri 24th May

7pm-8.30pm

2

Musicality and Possibilities (Beg/Int/Adv Levels)
Recognising the style of orchestra and the possibilities of single time, double time, half time and the pause

Sat 25th May

10am-11.30am

3

Men's and Women's Technique (Beg/Int/Adv Levels)
Working individually on the technique of leader and follower and then coming together to put the techniques into practice

Sat 25th May

11.30am-1pm

4

Building Giros (Beg/Int/Adv Levels)
Putting the building blocks together for the perfect giro

Sun 26th May

11am-12.30pm

5

Giros (Int/Adv Levels)
Exciting giro figures

Sun 26th May

1pm-2.30pm

6

Vals (Beg/Int/Adv Levels)
Understanding the vals rhythm and the possibilities of expressing it through figures

Sun 26th May

3pm-4.30pm
Gallery