Recap: Gala Milonga with Maestro Bandoneónist Joaquín Amenábar - Saturday 28th September 2013
Posted on 30th September, 2013 by Sabrina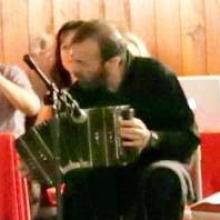 Wow just where do we start in analysing and describing our Maestro's visit in September!
Firstly, what a fabulous privilege and honour it was to host Joaquin here in Perth. To begin with our Milonga night reached maximum capacity. The energy was electrifying with guests from other schools, Albany, interstate and the radio press. That's enthusiasm for you.
Joaquin's live Bandoneon playing at the Champagne Tango Perth milonga on Saturday night was simply unique and divine and we didn't want him to stop playing, hence the encores. Dancers took to the floor while he played and it was an eye-opener to many who had never before heard the Bandoneon being played nor seen one in the flesh. It is indeed a rarity to hear such a great maestro play and in our hometown as well. Such delicious melodies from a musician and an artist of such pure and unique talent. Thank you, Maestro. We want you back!!
Our Milonga night would not have been possible without the delicious arrangement of music played by our DJ Patrick Spanoghe. With his creativity and passion, he kept the dancers on their toes all night, so to speak. Thank you Patrick for a night of beautiful melodies and welcome back (after a long hiatus overseas).
Thank you to our tango chef, Raffaele Capasso (aka Raffa) for a delicious supper once again, it never disappoints with queues to the table for your enticing pastas, salads, meatballs and of course the tantalising desserts which disappeared in the blink of an eye.

Thank you to our team Sonya, Sam, Raffa and Fabian and to our Futsal (football) helpers in the kitchen, Boris and Adriano and our goddaughter from Sydney, Samantha Hamilton. The night will not be possible without their support, dedication, help and sheer love for tango. Together, we all made it a most successful and memorable night.
Gracias para todos.
Sabrina on behalf of Champagne Tango Perth
Photos courtesy of Ken Sheldrick
Gallery