Recap: Maestro Bandoneónist Joaquín Amenábar in Perth - Workshops September 27th, 28th and 29th 2013
Posted on 30th September, 2013 by Sabrina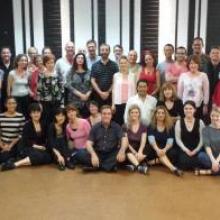 Wow just where do we start in analysing and describing our Maestro's visit in September!
We had a tremendous response for participation in the workshops which reached full capacity that we had to find a bigger venue for Sunday's workshops at the eleventh hour.
Joaquin needed no introduction. He is an artist of such high calibre who challenged our very concept of learning and understanding musicality and appreciation of the richness and diversity of tango music. ChampagneTangoPerth had a tremendous response and reception to Joaquin's visit and his five workshops were packed with many eager and enthusiastic students hanging onto and devouring every word and actively putting into practice the lessons in front of them, showing that there was a real "hunger" for his workshops.

We had to close our workshops early due to the high numbers (all classes over 40 students, an unusual occurrence in Perth tango) but the workshops and Joaquin's visit was such a tremendous success that we already have had participants asking us for an encore!
We hope to host Joaquin in the very near future and to all those who missed out on this opportunity, adhere to our advice to book early!
ChampagneTango will like to thank all those within the Perth tango community who participated in his workshops (maximum capacity) and for giving Joaquin such a respectable, appreciative and warm reception during his recent visit.
Thank you Perth tango for your intense appreciation of Joaquin and for your participation. It was indeed very special for us and for him.
Visit our Photo Gallery page for more photos.
Gallery