Recap: October's Centenary Milonga
Posted on 13th November, 2013 by Sabrina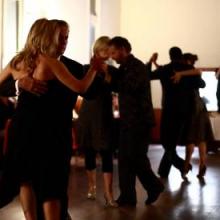 What an event it was to celebrate 100 years of tango in Australia. Once again it was an enjoyable night with trademark selection of music by our DJ, Patrick Spanoghe and the Mi Serenata's team display of videos and photos on the big screen. Supper, provided by Raffa, was once again delicious (the queue to the table gets longer each time).
The highlight of the night was a lovely showcase by some of Perth's dancers. They enthusiastically and wholeheartedly rosed to the occassion. We would like to thank the dancers for their participation on the night some of whom agreed to participate on the very night! All couples danced beautifully and for themselves (which is what tango is all about) and we could sense the enjoyment that they derived from it. Your participation provided a night solely for the Perth tango community and to show all present that talent and tango is certainly alive and thriving in our community.Our appreciation was reciprocated with an encore.
So, a big warm thank you to the following couples/individuals: Bob & Bubbles; Nick and Carmelia; Pierre and Naomi; Geoff and Celine; Roberto and Amanda; Sharon and Totti. We greatly appreciated it and enjoyed it immensely. It was indeed a very special night for us.
Mi Serenata presented tokens of appreciation to all those who helped and stepped in for us during the year. Firstly, our DJs spend many hours painstakingly arranging and re-arranging music to get the magic combination and reading the crowd on the night as well. Their skills often go unnoticed. As we say, " Sticking a CD into a laptop does not a milonga make", so thank you to all our DJs - Patrick, Helene, Pierre and Nick for your beautiful arrangments, participation, assistance and friendship over the year.
Secondly, we would like to thank all those who consistently attended our milongas over the past yea r, especially to four very special friends, Nick and Kate Suess, Amido Nadim and Maryann Hogan. Your support, loyalty and encouragement over the year has helped us along, especially during those early days. We are grateful to you in believing in us and always loving what we do! Thank you.
Fianally, we thanked our team members Sonya, Sam, Raffa and Fabian for the hard work they put in leading up to the night. We see the end product at each milonga but I can assure you that hours of preparation and planning go into each Milonga we hold. The night will certainly not be possible without their support, dedication, composure, individuality and sheer love for tango. Together, we aim to make each Milonga a successful and memorable night.
Photos courtesy of Ken Sheldrick
Gallery