Mi Serenata Tango performs at Freshwater Bay Museum
Posted on 18th November, 2013 by Sabrina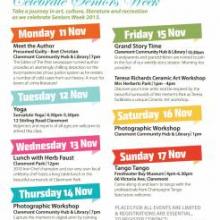 Tango Tango
Mi Serenata Tango has been invited by the Freshwater Bay Museum to showcase tango for spectators and participants alike, followed by a mini-introductory tango lesson. This in honour of the Town of Claremont Seniors Week.
Date: Sunday 17th November 2013
Time: 4pm-6.30pm
Venue: Freshwater Bay Museum, 66 Victoria Ave, Claremont
Come along to and learn to tango with the professionals from Mi Serenata Tango. A dance showcase as well as a mini lesson will be performed by Mi Serenata Tango teachers, their ardent tango students and members from the perth tango community. Spectators are welcome.
Promotional material property of the Town of Claremont
See all photos in our gallery. Videos will be uploaded very soon..
Gallery