Recap: Saturday 16th March - GALA MILONGA with Performances by Tangueros and the Perth Qualifying Round of the Australian Tango Dance Challenge
Posted on 21st February, 2013 by Sabrina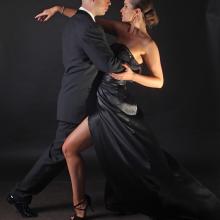 Our next Milonga is on Saturday 16th March 2013 at
St Aidan's Uniting Church
26 Princess Road
Claremont WA 6010

Milonga from 8.00pm till late
ENTRY - $20
DJ FOR THE NIGHT - our resident DJ Patrick Spanoghe
MUSIC - Traditional Golden Age of Tango

DRESS CODE - Elegant
AMBIANCE - Champagne cocktail on arrival; Large Wooden Dance Floor; Door Prizes, Performances &the Perth Qualifying Round of the Australian Tango Dance Challenge
LIGHT REFRESHMENTS - Light Supper, Desserts & other delicacies; Espresso Coffee/Tea
Join us at our GALA MILONGA with performances by Tangueros as well as the Perth Qualifying Round of the Australian Tango Dance Challenge - first ever to be held in Perth in conjunction with the organisers of the Sydney Salon Tango Festival.
Come and discover why our Milonga has become the talk of the tango scene Australia-wide.
---
Dance Challenge will commence before the performances from our special guests Jairo Sanchez Rivera and Amy Teuchert.
The organiser of the Sydney Tango Salon Festival, has approached us to host the qualifying round of the Australian Tango Dance Challenge (ATDC) in Perth *. The ATDC is a special 'happening' which will offer tango beginners and experienced students the encouragement to dedicate more of their time to working on their dance together and with their teachers.
The competition is open to all amateur tango dance couples. All participants must be at least 18 years of age.
For complete details of the Competition and logistics for interstate travellers, go to the Australian Tango Dance Challenge website or contact the organiser.
Perth Contestants - what you must do prior to 16th March:
Pre-register - Contestants must use the Registration Form on the ATDC website under "The Challenge" to register and pay. Specify Beginner/Open Category.
Contestants must email their names to Champagne Tango Perth so that we know the number of couples to expect on the night.
Contestants must familiarise themselves with the Criteria and Guidelines for the Challenge under the dropdown item "The Challenge"on the ATDC website.
Contestants must turn up at CTP Milonga on 16th March by 9pm and mention their names to receive their number tags.
Music is chosen by the Competition organisers.
All couples will take to the floor together and dance to three (3) pieces of music.
Judging - we are fortunate to have our professional performers for the evening, Jairo Sanchez Rivera and Amy Teuchert judging the competition.
Expressions of interests are welcomed as of today. So couples take the plunge and you might be the winning couple in the Finals in Sydney to receive return tickets Sydney/Buenos Aires and 6 nights as Guests of Mariposita de San Telmo, Buenos Aires.
Gallery