Recap: Sidewalk Tango Martini Tango Milonga at the Spiegeltent 15th and 16th February 2013
Posted on 17th December, 2012 by Sabrina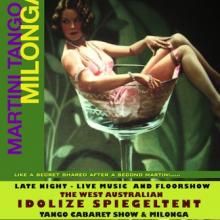 In association with Champagne Tango Perth, press release for "Martini Tango Milonga" appearing as part of Fringeworld Perth 2013
DATES: 15th and 16th February 2013
TIME: 11.00pm
TICKETS: $25 full ($20 groups of six)
VENUE: West Australian Spiegeltent
BOOKINGS: FRINGEWORLD
SHOW CONTACT PERSON: David Backler (email: david@sidewalktango.com.au, mobile: 0488 700 701)
---
Press Release:
MARTINI TANGO MILONGA
A Cabaret Milonga
A "Milonga" is the social hub and venue for the traditional Buenos Aires culture of Tango social dance.
The Martini Tango Milonga takes us through an informal and intimate tour of this hidden world.
A spectacular tango cabaret show, live authentic tango dance music, plus a chance to feel and move to the mysterious rhythms of traditional Tango Argentino.
Previous audiences:……..
"You immediately know that you have just embarked on a miraculous journey, shared with a myriad of people, in the hands of a master"
……….Herald Sun online
Much like a secret one shares after drinking your second dry martini, the show reveals the arcane cultural codes and the intimate secret pleasures associated with a night at "The Milonga" .
A light-hearted peek at the foibles and pitfalls of the world of social dance, including an hilarious sneak look into how to ask for a dance in the traditional manner of the Buenos Aires Tango culture the "Cabeceo"
A brief tango class is handled with an assured yet light touch and is your chance to get on the floor and move to the mysterious dark and pulsating rhythm of traditional 1940s and contemporary Tango.
Pleasure is guaranteed !
Tango and showmanship: like a dry martini, a simple yet perfectly balanced recipe for pleasure, the Martini Tango Milonga packs a real entertainment punch.
Directed and Performed by
David Backler and Dianne Heywood- Smith
They have been performing and teaching Tango and Cabaret across Australia and internationally for over ten years.
In 2010 bestowed with the title "Tango Ambassadors" by the Argentinian Embassy.
A dance couple who express the essence of the mythical, oft-mentioned, but indefinable experience of the tango embrace.
A heightened awareness of connection, and the special sense of a "secret inside". A motionless, fathomless, dark ocean of time, and a bittersweet nostalgia and awareness for the passing nature of all life and things.
Resonating with rhythm, subtlety and touch. Be enraptured by the encounter, the pleasure and humour and seriously stylish good fun…
Musicians
Leonardo Intilangelo: is from Buenos Aires, and plays the traditional instrument of tango: the Bandoneon.
Andrew James : founder of the renowned tango nuevo quintet "Colectivo 29" . Piano and keyboard.
A vibrant, adventurous duo playing "Dance Tango" with a distinctive new sound.
Stunning arrangements of classic Tango repertoire, lesser known compositions from Argentinian maestros and original themes all combine producing a post-Piazzolla, post-GFC economic crash mix of passionate and intense music. Combine searing, rhythmic bandoneon and shimmering piano to produce a captivating blend of lyrical and danceable music. Paying homage to the dark dramas played out by Osvaldo Pugliese and the rhythmic force of Biagi. The music that has inspired generations to the passionate close embrace will melt your heart and move your feet.
Tango
Argentine tango has been thrilling dancers for more than 100 years.
Tango is loved by dancers and audiences for its beauty, passion, drama and excitement.
Learning to dance tango socially is based on improvisational movement and respecting both your partner and the other dancers on the floor. The essence of Argentine tango is about life and, especially, about the relationship between a man and a woman. Graciela Gonzales, a leading tango instructor, calls the dance "the history of love—for three minutes."
Argentine Tango is an improvisational and intimate social dance. An aesthetic, cultural and instinctive world of mystery, beauty and energy.
CV
Now a resident of Melbourne, David was originally trained as a performer in Perth ,Western Australia and worked for Deckchair Theatre for two years before touring with theatre and circus companies in Europe. Following a change in career, toured across Europe with an Argentinian Tango show from 1988-1990. In 1990 moved to New Zealand where was the first teacher of Tango Argentino in that country. David's milonga "Tango Noir" started in 1994 is still running to the present day.
Dianne is trained to an advanced level in Classical Ballet (Checchetti) and worked in S.A. Ballet. She has been a performer all her life and has made many appearances on TV shows and commercials, and has worked in Cabaret and theatre. Her main teachers and influences in tango have been Graceila Gonzalez, Zoraida Fontclara, Pilar Alvarez , Juan Bruno, "Pupy" Castello, Pocho Pizzarro Gustavo Naveira
David and Dianne have also been have performed in theatres, clubs, for private and corporate entertainment and at festivals around Australia, and overseas including Korea, Singapore, Spain, France, UK, Argentina, China, New Zealand.In 2010, they were officially acknowledged with the title "Tango Ambassadors" bestowed upon them by the Argentinian Embassy.
A milonga will follow the Tango Cabaret show and performances.