Sidewalk Tango in the Press!
Posted on 21st July, 2012 by Sabrina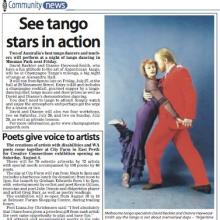 See tango stars in action
Two of Australia's best tango dancers and teachers will perform at a night of tango dancing in Mosman Park next Friday.
David Backler and Dianne Heywood-Smith, who have a fun attitude to the art of Argentinian tango, will be at Champagne Tango's milonga, a big night of tango at Alexandra Hall.
It will run from 8pm to late on Friday, July 27, at the hall at 20 Monument Street. Entry is $15 and includes a champagne cocktail, gourmet supper by a tango dancing chef, tango music and door prizes as well as David and Dianne's demonstration dancing.
You don't need to tango to attend. Simply watch and enjoy the atmosphere and perhaps get the urge for a lesson or two.
David and Dianne will also run four workshops, two on Saturday, July 28, and two on Sunday, July 29, as well as private lessons.
Reprinted from The Cambridge Post, July 21st 2012