Recap: Our Friday 13th July Milonga
Posted on 16th July, 2012 by Sabrina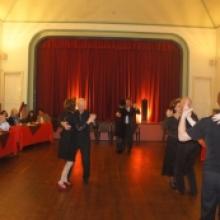 Another lovely and crowded milonga. No black cats on that night. We would like to thank everyone for joining us and making it such a tremendous success. The milonga was buzzing with dancers and non-dancers alike. Once again, we were overwhelmed to see many familiar faces, ardent supporters of us and just lovers of tango (you know who you are, thank you) who want a distinctive milonga to relax and just enjoy a night out. We have been receiving many newbies to tango as well, of all ages, which is both encouraging and refreshing to our Tango scene.
The atmosphere was once again energetic, happy, chatty, friendly topped off by the majestic music arranged by our DJ John Ellis. Our charming hosts, Sonya, Dora and Sabrina greeted guests at the door and ensured everyone were comfortable and had dances. Our tango dancing chef, Raffaele, cooked up a storm once again serving our signature dish of empanadas, sweet and savoury muffins, Italian bread and butter pudding, antipasto and many more delicacies which were as much the topic of conversation as was the dancing. Many recipes & cooking tips were exchanged that night. Notwithstanding the heat in the kitchen, our chef, took to the floor many times to dance with the beautiful tangueras.
We had a special guest, and also a good friend of Sabrina's, Manuel Garber, from Sydney, who kindly donated one of his books, Tango Words, available on Amazon, as a door prize. The book is a translation of 20 tangos from Spanish to English. Our winning guest was Howard Johnson who gladly had it signed by the author. Our other guest, Nick Seuss, won a bottle of red wine from the Margaret River. Manuel was the ultimate gentleman. He danced with many tangueras, from advanced to ultimate beginners. We would also like to thank Nick and Kate for bringing along friends of theirs who are interested in learning this beautiful dance.
Our team member, John Ellis, was busily serving champagne cocktails to all those who came through the door; the floor served us well after wiped cleaned with a damp mop.
Overall, thank you Perth tangueros, tangueras and our newbies for sharing our night and making it such a success! You created precisely the type of social atmosphere to which we aspire. We cannot wait to welcome you back to our gala milonga on Friday 27th July with spectacular performances, more dancing, great music, more delicacies, further door prizes and more friends to add to your collection!