Tango in the Lion City 2nd-6th October 2013
Posted on 8th October, 2013 by Sabrina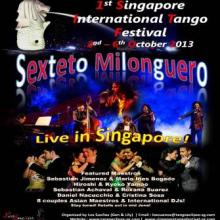 Well, what a spectacular event this was. It was a show to behold and a festival to rival all other festivals. with stars and performances that just took our breath away - Sebastian Jimenez and Maria Ines Bogado, Sebastian Achaval & Roxanna Suarez, Daniel Nacucchio & Christina Sosa and Hiroshi & Kyoko Yamao, all took centre stage at the Grand Milonga with their respective performances of such high calibre and choreography that the audience was left stunned and gasping for more.
Together with their improvisation to the live tango orchestra of Sexteto Milonguero, comprising two violinists, cellist, pianist, bandoneon player and a singer with such vocal intensity and passion, the talent of the maestros was mesmering and intoxicating. The orchestra and DJ had such energy and worked the dancers to the wee hours of the morning for four days. The standard of dancing was exceedlngly high - among the best we have seen, even in comparsion to the tango festivals in Buenos Aires.
Well done all who came with us. We are proud of you dancing among the very best in Asia.
The workshops were interesting, well presented and simply professional. I would find the entire experience, from the performances to the organisation, difficult to fault - a seamless experience to the finest details. The sheer love of tango from the organiser, Lily Tan, was explicit and it made all the difference to the participants, the maestros and to the entire event.
Champagne Tango Perth and a group of its students and others within the Perth Tango Community took to the milonga floors without any hesitation and immersed ourselves in the crowd in a splendid 4 full days of milongas and workshops. We hope to grace the shores of Singapore again. This has been a memorable event for us at Champagne Tango Perth as we strive to introduce, to nurture and to look outside the square to inspire others with tango knowledge and experience.
Workshops with Sebastian Archaval & Roxanna Suarez, Daniel Nacucchio & Christina Sosa.
Gallery