Tangueros Workshops Friday 21st, Saturday 22nd and Sunday 23rd March
Posted on 25th March, 2014 by Sabrina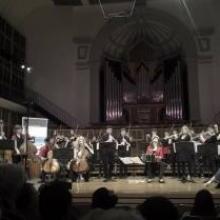 Amy Georgina Teuchert and Jairo Sanchez Rivera from Tangueros will be teaching the most up to date styles and provide you with the tools and techniques fresh from Buenos Aires. Their weekend workshops last year were such a success that our participants asked for their return.
Each workshop was well presented, well attended and we had a gender balance. Participants were motivated, inspired, enthusiastic and hungry for the knowledge that these two professional teachers and dancers brought to the table. Their workshops are aimed at beginners to advanced levels ensuring that every participant takes home a concept, idea or innovation with them. These teachers are generous with their knowledge and their aim is to educate and impart.
"Believing that the building blocks are necessities for any tango dancer"
Please note that private lessons have already been booked out once the word got out!
You can see one of their performances at Salon Canning 13th January 2014.
PAYMENT DETAILS
Direct deposit to Bank: St George Bank
BSB: 112-879 Account number: 437 770 614
Account name: FloraRose
PAYMENT INSTRUCTIONS
Once payment has been made, email your Surname, Initial & no of Workshops e.g. ELIAS, S (4) to info@miserenatatango.com
Date
Event
Description
Cost

Time
Venue
Friday 21st March 2014


Workshop 1
Milonga y Vals (All Levels)
Understanding the vals and milonga rhythms and the possibilities of expressing it through figures

$25
6.30pm – 8pm
St Aidan's Uniting Church
26 Princess Road
Claremont
Saturday 22nd March 2014


Workshop 2
Building from the Beginning: Connection, Embrace & Caminada (All Levels)

A class for the new or experienced dancer covering elements of connection, balance, body awareness and energy

$25
11-12.30pm
Empire Dance Studio
2/96 Erindale Rd Balcatta
Saturday 22nd March 2014


Workshop 3
Building from the Beginning: Ochos, Sacadas & Giros (All Levels)

A class for the new or experienced dancer covering elements of some of the most essential steps in tango

$25
1pm - 2.30pm
Empire Dance Studio
2/96 Erindale Rd Balcatta
Sunday 23rd March 2014



Workshop 4
Figures (Intermediate/Advanced)

Complex figures for the more experienced dancer

$25
11-12.30pm
Empire Dance Studio
2/96 Erindale Rd Balcatta