Recap: Natalia Hills & Alejandro Aquino in Perth 2014
Posted on 21st August, 2014 by Sabrina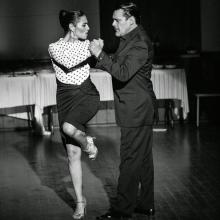 What a blast we had with them! Thank you to everybody for making their first trip here such a successful one. For Mi Serenata that was our weekend when we were privileged and honoured to play host to genuine tango 'royalty' in Alejandro Aquino and Natalia Hills.
From a classical ballet training, Alejandro 'discovered' tango during its revival era, when Argentina returned to democracy after three decades of repressive regimes and brutal juntas which had suppressed the dance. He then took the bold step of applying for an audition to be the male performance dancer with the orquesta tipica of one of the greatest of tango composers, Osvaldo Pugliese. He described to us how at the audition, under the close supervision of Pugliese the other dancers were one by one told "don't call us, we'll call you" until he suddenly realised he was the last man standing, and they just asked him to dance on. Yes, he got the gig!
As his tango career progressed he discovered amongst his young acolytes a brilliantly talented partner in whom he could see the potential to become the best of the best, and this is Natalia. Together they have now taught all over the world, currently running a major tango school in Verona, but this was their very first visit to Perth.
Those dancers who attended workshops with Alejandro and Natalia have universally praised the quality of their teaching, speaking of having gained insight and enlightenment from them and developed whole new levels of understanding of tango. Many such comments came to light during our Q&A session on the Sunday afternoon. Alejandro is a modest but very expressive man, and didn't feel his limited command of English could do justice to what he wanted to tell the audience, so with no fluent Spanish speaker present, he chose to address us in Italian instead, and Raffaele Capasso kindly translated.
The absolute highlight of their visit was the gala milonga on the Saturday night. The hall in Claremont was full to capacity and those present were treated to an outstandingly exceptional display from our guests. Warmed by the standing ovations they received, they continued with a number of encores, telling us later that our audience filled their hearts with joy, and they truly loved their time in Perth. It was an emotional farewell and they promised to come back soon.
We simply can't wait!
Read what the maestros themselves had to say about Perth Tango (From Natalia Hills on Mi Serenata Tango Facebook)
"Thank you Mi Serenata Tango and all Tango People in Perth to make of our first visit here this big success. We had a wonderful time in Perth and we will not forget. Thanks for the respect and human warmth. Thank you Alejandro Del Mar and Jenny for the love and hospitality , Sabrina and Raffaele for the wonderful organization… Un abrazo amigos. Gracias !!
Go to our facebook page to view more photos and comments.
Black & white photo of Natalia & Alejandro courtesy of our professional photographers Martin Soh and Tuan.